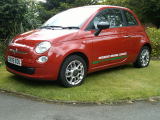 Theory Test
Getting Started
The Theory Test involves up to 50 multiple choice questions and a Hazard Perception test with 15 driving video clips. DVD's can be purchased in order to practice for this test.
Assistance can be given for this test and we can book your theory test for you if required. The cost of a theory test booked through the Driving Edge is currently £30.
Please call Freephone 0800 6127597 for further information.
Or call Guy (ADI) on 07845 909386 (7 days a week including evenings until 10pm & all weekend).
Try the Driving Edge Experience today.
Only Fully Qualified Driving Instructors with 5 Years Experience -Be Safer with the Driving Edge!
Local Experienced Instructors at Affordable Prices.