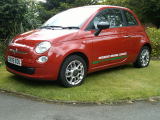 Book An Assessment
Lets Check Your Driving!
Why not book an assessment of your driving skills?
We understand that booking a driving course or intensive driving sessions can be a costly business. It is also difficult to know how many hours you will need in order to pass your test!
So why not book a one hour checkout assessment session (and meet your driving instructor) for just £20 which you can put towards your driving course if you decide to continue. All our instructors are experienced, fully qualified and DVSA Approved with five years experience (ADI -Green Badge Holders only). We can give you a proper assessment of just how many hours you are going to need. You can put the £20 towards the cost of your driving course.
Please call Freephone 0800 6127597 for further information.
We are also open Evenings (until 10pm) and all Weekend.
Or call Guy (ADI) on 07845 909386 (7 days a week including evenings & wwekends) or email guy@thedrivingedge.co.uk for further information.
Try the Driving Edge Experience today. Only Fully Qualified Driving Instructors with 5 Years Experience -Be Safer with the Driving Edge!
Local Experienced Instructors at Affordable Prices.