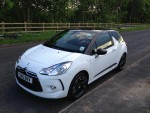 Driving Test Nerves
Suffering on the Big Day!
Do you think that you will suffer from Driving Test Nerves?
To be honest, it would not be normal if you didn't suffer from some nerves. But most DVSA examiners just want you to drive as if you were in a normal driving lesson. They know that you will be a little nervous. Many examiners are ex-driving instructors so they have brought nervous pupils to driving tests before anyway.
However you may want to try the link below and download some advice to help with Driving Test Nerves. There is a nominal charge for the download service below. For further information click below:
We can also recommend a book called 'How to pass the UK Car Driving Test' - a plain english guide to help you understand what you need to do to pass the UK Driving Test (Including advice to foreign licence holders). £4.95
To order the book above please call Town & Country Publications on 01689 839505 and quote the Driving Edge.
Please call Freephone 0800 6127597 for further information.
Or call Guy (ADI) on 07845 909386 (7 days a week including evenings until 10pm & weekends) or email guy@thedrivingedge.co.uk for further information.
Try the Driving Edge Experience today. Only Fully Qualified Driving Instructors with 5 Years Experience -Be Safer with the Driving Edge!
Local Experienced Instructors at Affordable Prices.